Horrifying and Damning
Josh Marshall
There's a big scattering of news these days. But I want to recommend that you check out Cristina Cabrera's updates on the denouement of the Jason Ravnsburg story. Ravnsburg is the Attorney General of South Dakota. Back in September it was reported that he'd been in an auto accident in which there had been a fatality. It quickly emerged that this was, while technically true, a bit different than what the announcement suggested. Ravnsborg had struck and killed a 55 year old man named Joe Boever driving home from a political fundraiser. He left the scene, later claiming he thought he'd struck a deer.
Earlier this week Ravnsborg was charged with three misdemeanors. But the evidence that came out at the conclusion of the investigation makes it seem that Ravnsborg got incredibly lucky not being charged with negligent homicide or hit and run. A witness said Boever was walking with a flashlight, which deer seldom carry. Forensic evidence strongly suggests that Ravnsborg was browsing RCP reading up on some Biden hit pieces when he struck and killed Boever. And perhaps most damning and horrifying, Boever's glasses were found inside Ravnsborg's car. In other words, this means almost to a certainty that Boever's face slammed, with the full impact of the collision, into and through Ravnsborg's windshield.
Cristina has the details here.
| News
President Biden has chosen for top positions at the Justice Department three advocates who have spent their lifetimes in the civil rights arena and the last four years in particular combatting the Trump-era's most egregious assaults on democracy.
Read More
| Five Points
The confirmation hearing for Merrick Garland — the moderate, well-liked federal appellate judge who was infamously denied a Supreme Court seat by Senate Republicans — did not exactly provide the kind of contentious, partisan fodder that accompanied past attorney general nominations. But that doesn't mean Democrats and Republicans passed up an opportunity to use the proceedings to take swipes at department conduct during previous administrations.
Read More
| Prime
January 20 was a tough day for the QAnon community.
Read More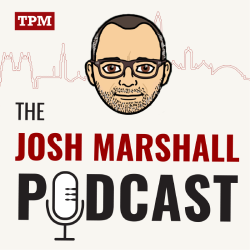 Ep. 161: Tanden Tantrum
Josh, Kate, and David discuss the slow sinking of Neera Tanden's nomination for OMB director, as well as the first public hearing after the January 6 Capito...