Where Things Stand: Will We Have A Grandstander?
Nicole Lafond
It appears that we will.
Rep. Thomas Massie (R-KY) pledged Friday that he will stand in the way of passage of a $2 trillion COVID-19 relief bill in the House today, a stimulus package that President Trump himself has vowed to sign once it makes it's way through Congress. Massie said Friday that he will stop the Senate-approved bill from passing via voice vote in the House, which will force lawmakers to come back to Washington, D.C. for a recorded vote.
Read More
How States Are Responding
| Miscellany
Our new 'Support Independent Journalism' merchandise is now available in the TPM store. Wear your support for truly independent journalism with all profit from sales going directly back into our journalism, not into the pockets of hedge funds or corporate overlords.
TPM PRimers: get caught up
TPM CAFE: OUTSIDE VOICES AND ANALYSIS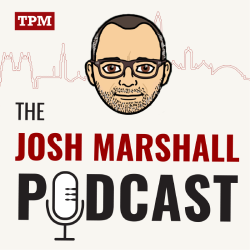 Ep. 112: Fealty During The Pandemic
Josh, Kate and David analyze the progress of a crisis under Trump, and how states — and even smaller communities — are coping....
MEMBER EXCLUSIVES
PRIMEWIRE